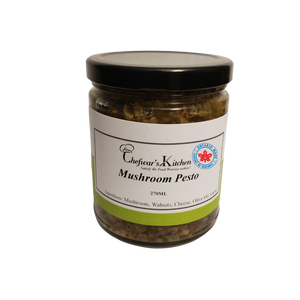 Mushroom Pesto
Regular price
Sale price
$8.99
---
Bella Italia! This Mushroom Pesto was born out of Chef Eshwar's desire to share a jar of Truffle Paste with his colleagues. In the Rome airport shop, where he came up short, his culinary sensory ignite the idea of creating a mushroom dip combine with some of the Truffle Paste to share.
The result of tasting his culinary creation was deemed worthy by his colleagues to request a jar to share with their friends and family. Therefore, we are delighted to offer this Mushroom Pesto as one of our savoury condiments this year again!  
Tasting notes: It has a robust earthy flavour, with a deep musky aroma resulting from the black Mushroom Truffle Paste. It's vibrant with umami flavour, coming from the combination of both wild and commercial grade mushrooms.  
Mushrooms are nutritious: Since they contain a high source of vitamin D and B and antioxidants. While they have an abundant glutamate source, deriving from the umami flavour, which aids in keeping our digestive system clean.
It is has no preservatives or additives, handcrafted to create a wholesome all-natural Pesto! Vegetarian, dairy, and gluten-friendly!
How to enjoy this decadent Mushroom Pesto?

serve on a charcuterie board, with an array of meats, cheeses, antipasti, and other savoury condiments. 

serve as a condiment with a steak or other grilled or cooked meats.

serve at breakfast on your toast with eggs, bacon heart-healthy avocado, or tossed together with your diced hashbrown potatoes.

take your mash potato to next level by mixing a tablespoon or two into it.

stirred some into a warm bowl of soup, for that additional umami flavour! 

serve as a spread on a hamburger or all types of sandwiches!

create a mouthwatering sauce for any type of pasta, by stirring a few tablespoons into the pasta with some white wine or stock, warm through until the sauce is blended into the pasta. 
Ingredients: mushroom, walnuts, cheese, truffle paste, olive oil & garlic